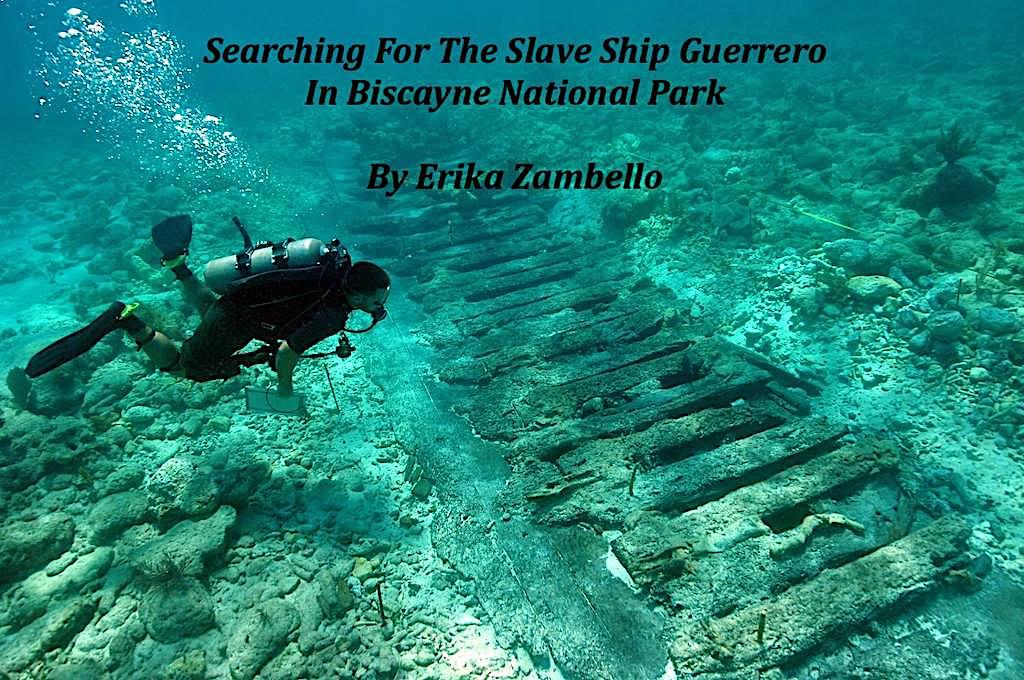 Terror echoed across the waves in Florida's Biscayne Bay. The slave ship Guerrero had just run aground on a nearly invisible reef, unable to move, its splintered hull quickly filling with saltwater. Others heard the cries and attempted a rescue, but so many could not be saved. The disaster remains a testament to both the cruelty of slavery and the power of Mother Nature's oceans, and for two centuries, the information about that fateful night still held by the wreckage of the ship remained a mystery. Now, archeologists at Biscayne National Park are determined to find it.
2018: Arriving at Biscayne Bay
Almost 200 years after the slave ship broke apart, I stood on the shores of Biscayne Bay, mere miles from where the Guerrero ran into the shallow reef. Joshua Marano, a National Park Service archaeologist, readied a boat to take me to one of the outlying islands, the same boat that transports underwater researchers to and from marine archeology sites in the summer field season. A bimini top kept out whatever sunlight glare made it through low cloud-cover, while a large motor propelled us through the rough surf of the bay.
As we sped across the water, I photographed the mangroves that bordered the mainland and barrier islands, twisting roots and interlaced leaves forming dense barriers to the surf and spray. While we felt all alone out there, Biscayne National Park is an urban park, visited by more than 400,000 people every year. Most are residents of nearby Miami. In all, five million people live within 50 miles of the bay. From a distance, the towers of the coastal city seemed suspended on the water itself, looking to me like a lost city of Atlantis.
19th Century: Chasing the Guerrero 
Two centuries ago, the habitations along South Florida and the Keys were much smaller in stature, consisting of fishing villages and trading posts. The United States had banned the importation of slaves in 1807, but that didn't stop illegal slave merchants from kidnapping Africans and transporting them to Cuba, where on average they lived less than 10 years while working the sugar cane fields. In 1827 the Guerrero, captained by pirates, had stolen slaves from multiple slave ship operations, restraining the men, women, and children in the bottom holds of the ship. Five-hundred-and-sixty-one souls lay with hands and legs bound, terrified of their future.
The Guerrero was not alone, however, and near the coast of Florida the HMS Nimble – a British anti-slave ship – began its pursuit, firing on the pirates and demanding they release their human cargo.
Both vessels wrecked in the vicinity of Carysfort Reef, somewhere near the southern boundary of what is today Biscayne National Park. They were stuck, with night coming on. Forty-one Africans died on impact.
Down through the centuries thousands of ships have wrecked in the Florida Keys. Within Biscayne National Park alone there are more than 157 archaeological sites; since 1995, there have been more than 1,800 groundings in the park's waters. Before we left the mainland, Marano showed me drawers full of artifacts from different wrecks recovered during professional archaeological investigations in the park, everything including porcelain plates, wooden rigging blocks,  religious figurines, and even a cannon.
21st Century: Inspired by Wrecks
Marano has wanted to explore shipwrecks since a family vacation in his childhood. Growing up in North Carolina, he remembers a map of the state's "Ghost Fleet," created by National Geographic based on the work of historian David Stick, on the wall of a beach condo. As a boy, the idea of seeing these underwater wonderlands captivated his imagination, and he pursued a bachelor's and master's degree focusing on naval and marine history. During college, he signed up for the Coast Guard, where he still serves as a reservist on weekends. Beginning as an unpaid intern, he has worked at Biscayne since 2012. Always passionate about marine archeology, he mulls over a PhD while we pull into the harbor of Boca Chita Key.
As a whole, the National Park System has few dedicated marine archaeologists, and fewer still who work full-time at one park, as Marano does. Most are, somewhat oddly, based in Colorado with the agency's Submerged Resources Center, which founded a specialized marine archaeology unit to investigate inundated archaeological sites in the Southwest.  Today, their staff travels to parks that need their services, including Biscayne. Additionally, a small contingent of diving archaeologists working for the regional Southeast Archeological Center in Tallahassee also routinely assist Marano with work in the park. In 2016, Marano and this team were to begin a massive undertaking.
1827: The Broken Guerrero
Night fell on the Guerrero, still stuck on the reef. The HMS Nimble dumped ballast, weapons, and other materials before freeing itself, only to run aground again and again. Wrecking crews that made their living rescuing ships eventually arrived, loading 400 people onto boats for ferrying to the safety of the Keys. Funny thing about pirates though – they don't really care about who is saving them. Hijacking two of the rescue ships, they hightailed it to Cuba along with those 400 people, effectively disappearing from the historic record. The 122 remaining Africans lived in Key West until the small community could no longer support them.
From 1525 to 1866, historians estimate that 12.5 million people were kidnapped from Africa and transported on slave ships to the New World. 10.7 million survived the horrible voyage; 388,000 disembarked in North America. From the coast, slavery spread across the ever-expanding United States until the Civil War. By the time the Guerrero ran aground, thousands of slaves already lived in Florida.
2018: Human Impact at Boca Chita Key
The breeze continued to buffet us at Boca Chita Key, one of the most picturesque terrestrial sites in the park. The archaeological areas lie southeast of the waving trees, and this island remains most popular for overnight campers. Like much of the park, Boca Chita is steeped in history, having served as a getaway for industrialist Mark Honeywell in the mid-20th century. A lighthouse stands at the edge of the small harbor, never used but serving as a reminder of the family that once spent time here. Marano unlocks the lighthouse door and we walk up the curving stone steps to get a better view of the island and surrounding bay. There are more than 5,000 patch reefs in the park, many creating potential navigation hazards.
Given its unique marine environment and proximity to a major city,  staff at Biscayne constantly work to educate visitors and try to prevent damage to both natural and historic resources. From the lighthouse height we could see seagrass scars from boats operating in water too shallow for their motors. 
Human-caused damage is a risk for the marine sites as well. In one English shipwreck, someone gathered up pieces of glass and cemented them into a sign of his own making: "TQ's Reef." The glass came from different time periods, and by removing them from their context, the interloper destroyed anything that could have been learned from these objects or the site they came from. It's difficult to protect against such site poaching, Marano explains, as some who live nearby have been exploring these areas since long before they were included in the park and as such often have a personal sense of ownership of historical material in park waters. While some may want to collect items to carry home, being underwater does not change the fact that artifacts are sensitive cultural resources protected by the National Park Service for the betterment of this and future generations.
Marano often works to inform the public about park resources, projects, and opportunities to become involved in order to develop a vested interest among locals who will in turn become stewards and advocates for park resources. While many parks elsewhere in the country often tell visitors to "take only pictures, leave only footprints" in order to preserve the sensitive resources they protect, rangers at Biscayne use a slightly modified version: "take only photos, leave only bubbles".     
Concerns over the loss of such archaeological sites has caused many across the world to band together to study slave shipwrecks before they are lost to natural or human forces, trying to glean information from a dark period in history in the hopes that their discoveries will give enslaved people a voice in the modern world. The Slave Wrecks Project, "discovering history through the lens of the global slave trade," was founded in 2008 and remains a collaboration between George Washington University, Iziko Museums of South Africa, the South African Heritage Resource Agency, the U.S. National Park Service, Diving With a Purpose, and the African Center for Heritage Activities.
2016: Underwater Investigations Begin
As part of the second phase of the Slaves Ship Project, the team received funding to search the national park waters for the remains of the Guerrero. Though its demise was well known, no trace of the broken ship had ever been found. The searchers had a plan: using magnetometers, they covered 1183 linear miles of transect lines, their equipment letting them know whenever metal – an indication of a man-made object – popped their sensors. Coincidentally, they have 1183 sites to research, and the team plans to investigate each one going forward into the future.
Most pings from metal detectors on the ocean floor emanate from garbage – metal cans or scraps that hold no new information for archaeologists. Even when items exist, it takes specially trained divers to recognize objects covered in coral and half-buried in the white sand.
"It can be a bit difficult to tell and it is not always as obvious as it may seem," Marano says. "While locating modern marine debris is relatively straightforward, anything that has been on the reef for any amount of time (such as long-abandoned fishing traps, hurricane debris from less recent storms, etc) begins to blend into the reef."
Passage of time, currents, and storms affect wrecks. There are no stereotypical 'ghost' historic shipwrecks in the Keys that resemble what you may see in a children's cartoon or movie in which the masts are still standing, shredded sails flapping in the current and a skeleton at the helm, he explains. Instead both natural and human impacts typically break them down until they reach a point of equilibrium with the environment, and become the foundation for coral growth and habitat. Cannon, iron fasteners, and vessel rigging can often blend in with the surrounding environment, becoming perfectly camouflaged. Some items, such as wood, ballast stones, and other metals may not have as much new coral growth but may be covered with silt or obscured by marine growth, leaving only a general outline visible from above.
"I tend to look for shapes that stand out from the rest of the reef environment such as straight lines or odd coloration," Marano tells me. "In reality, the art of locating and identifying artifacts or marine debris underwater is a skill developed over time, and past experience often influences how quickly and how accurately you can locate cultural remains that have been hidden in plain sight for hundreds of years."
As part of the Slave Wrecks Project, a marine archaeology team from Senegal moved to the national park in the summer of 2018, learning to explore underwater sites while providing desperately needed eyes and hands as Marano and the divers continued to investigate possible wreck areas. The group "Youth Diving With a Purpose" has also played an integral role in the effort.
"Working underwater is generally one of the most peaceful aspects of my job in which I get to focus, generally without too many distractions (beyond some interesting encounters with various wildlife such as sharks, dolphins, or sea turtles), on the task at hand, whether that may be conducting an underwater metal detecting survey, setting a baseline, taking photographs or (my personal favorite) mapping surviving ship structure," Marano continues.
"Working on the bottom is often a stark contrast to the noisy deck above, where running engines, chattering radios, and other sounds of a working vessel can dominate the atmosphere (unless of course you are the only one topside for a dive in which the boat can be just as peaceful)," he says. "In either location, it is not lost on anyone on the crew how amazing of a place Biscayne National Park is and it reminds us all of our duty to preserve and protect this resource for the betterment of this and future generations."
In the two years since the project began, divers have found a carronade (a type of short cannon) and cannonballs from the right time period – potentially ballast drops from the HMS Nimble as it tried to float off the reef.
Though the evidence is not yet definitive, the discoveries bring hope that the Guerrero's final resting place might still be found. Staff at Biscayne National Park still has hundreds of locations to investigate, though they worry that human interference at sites will limit what they can learn about this period of American history. Teams from the National Oceanic and Atmospheric Administration also look for the Guerrero in the nearby Florida Keys National Marine Sanctuary.
21st Century: Kingsley Plantation
Key West – a small town in the early 1800s – couldn't support those rescued from the slave ship. The men who survived lived for years as slaves at a plantation in northern Florida before 95 eventually made the return voyage to Liberia, where the United States government attempted to set up a new territory for freed slaves.
During a visit I walk outside the tiny tabby cabins where they once lived at Kingsley Plantation (part of the National Park Services' Timucuan Preserve), sitting on the edge of a vibrant salt marsh. Wood Storks and pelicans make slow circles overhead, and the heat simmers in the Florida sunshine. In the 19th century, 60 people worked the plantation in cotton, citrus, sugar cane, and cornfields for Zephaniah Kingsley and his wife, Anna, a former slave.
Not allowed to learn to read or write, the voices and experiences of those once on the Guerrero disappeared when they eventually returned to Africa. Of the 561 people originally on the slave ship, less than 20 percent returned, and for many Liberia remained far from their original homes. I wonder if the waving marsh grasses, the dense forest of oaks and palmettos, and the flocks of wading birds that drifted up into the sky like clouds reminded those living at Kingsley of their former lives, or served as a stark contrast to the landscapes in which they had been born.
2018: The Slave Wreck Project Continues
Biscayne National Park, of which 95 percent is underwater, may be the largest marine park in the National Park System, but it is not the only one. While considerable progress has been made in the ongoing project at Biscayne, which has identified several new sites within the park, more work awaits as archaeologists still have more than 400 anomalies awaiting investigation. As the Slave Wrecks Project continues, efforts have also begun to identify potential archaeological sites in the U.S. Virgin Islands, specifically within Buck Island Reef National Monument, Christiansted National Historic Site, and Salt River Bay National Historic Park and Preserve.
Nearly 600 slave ships wrecked in locations across the world, forming a nearly untapped source of information for a barbaric practice that nevertheless contributed to the culture of the United States – both then and now. The National Park Service continues to search for these wrecks to preserve their legacy for future generations, a small justice for those who perished and lost their freedom in the transatlantic slave trade. 
Swiftype News